Functional and Stylish = Perfection in my book!
I was looking to purchase a couple of heavy duty hooks recently and feel in love
with these rustic over sized pieces from Restoration Hardware: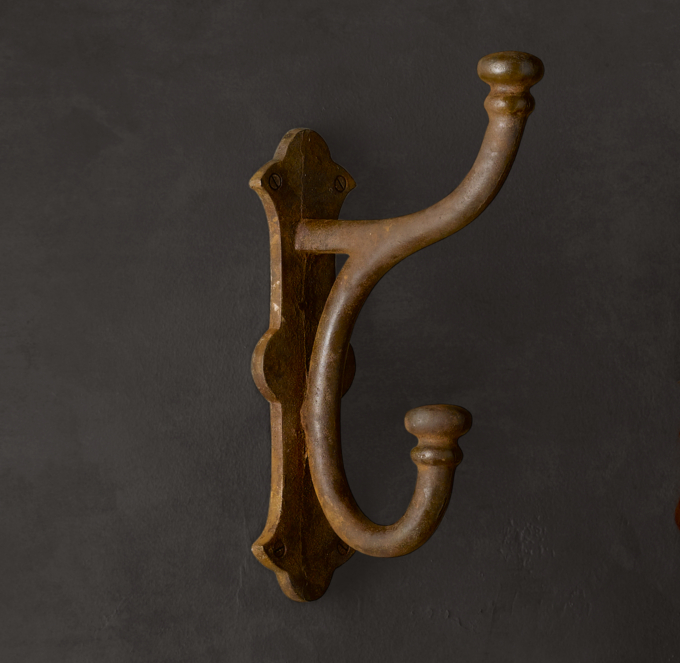 But I wanted two and $84 wasn't in my budget for hooks!
I came upon these at my favorite source, Hobby Lobby, for a crazy $2 each!
Although smaller than RH's they're still a generous size (5" x 7")
and have a great sturdy feel.
And, if we wanted hooks that color we know how to dab some gold and brown paint on
them, add a little rub 'n buff and wipe it around, right?
What I don't do for you guys, lining these up on the floor at Hobby Lobby and taking photos
of them! I tried to get the price tags for you - hooks, pulls, handles and knobs
are ALWAYS 50% off, every single day!
Just a small preview of what is available.
Mind-boggling selection...
I couldn't bring myself to make you endure another photo of detail boy's room
(you're welcome!) before the final reveal,
but they're on the wall in there and I'd highly recommend them if you need heavy duty hooks.
Tomorrow I'll show you the pretty disgusting dumpster dive I talked Mr. Simple into
wheeling home for me.
Hint...it will be requiring 18 knobs, pulls or handles of some sort... :)